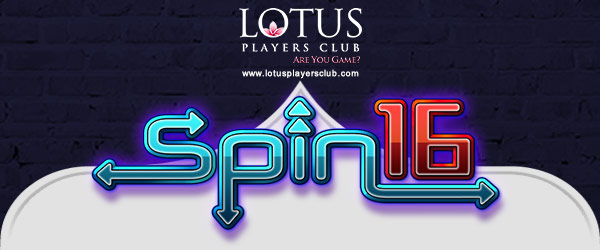 Newsletter | 24 February 2017
Dear,
With 4 "new" games equipped with an EXCLUSIVE slot feature and a Medals Tournament with incredible prizes you can look forward to a weekend that's jam packed with winning entertainment!

Lotus Players Club Casinos is proud to bring you Spin16 Slots, a never-before-seen innovation that gives YOU the choice to spin any reel Up or Down, Left to Right and Right to Left! The best part about Spin16 is that YOU CHOOSE which way to spin any of the reels – up to 16 ways!
Your Top 4 games have been coupled with Spin16 features to bring you Spin16 Big Game, Spin16 Horn of Plenty, Spin16 Age of Spartans and Spin16 Elementium (based on the popular Elemental7 video slot)!
Prepare for MORE wins, MORE fun and MORE interactivity with Spin16!
Want to know how to play Spin16? Click here.

Spin16 is phenomenal on smart phones and tablets! You just swipe the reel of your choice in the direction YOU want it to spin and away you go! On desktop you simply click on the green arrow at the edge of the reel, with your mouse, to move the reels in whichever direction you like.

Lotus Players Club is hosting a Medals Tournament on the 4 Spin16 games! There's Cash, Bonus Money and Free Spins up for grabs on each of the 4 games with a hefty reward for winning Diamond Medals on all 4 games.
Prize breakdown:
• Blue Medal – 5 free spins
• Bronze Medal – 15 free spins
• Silver Medal – $25 bonus money
• Gold Medal – $75 bonus money
• Diamond Medal – $100 cash
• 2 Diamond Medals – $300 cash
• 3 Diamond Medals – $500 cash
• 4 Diamond Medals – $1,000 cash
To win, all you have to do is deposit and play on one or all 4 of the Spin16 games from today, 24 February until Tuesday, 28 February, and you will win a prize for the highest medal you win on the day on each of the 4 new games!
PLAY NOW AT ANY LOTUS PLAYERS CLUB CASINO!
Share to Social Networks
The following two tabs change content below.