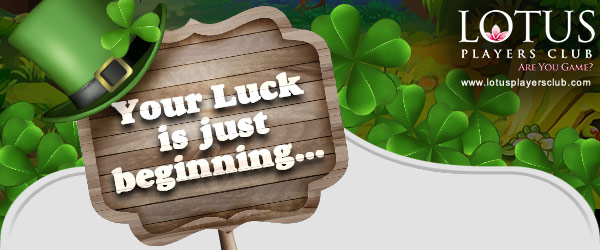 Newsletter | 15 March 2017
Hi,
This Friday, 17 March, is the luckiest day of the year! That's right, it's St Paddy's and I have to tell you, if you miss out on what we have planned this year, you'll turn green with envy. Make sure you log in to your favorite Lotus Player's Club Casino from Thursday, 16 March to Sunday, 19 March, because we've got some clues on how to find your pot o' gold at Lotus Player's Club Casinos this weekend!

What better way to celebrate this Irish-themed holiday than with a bit of entertainment! You're in store for fun and games this St. Patrick's Day at all our Lotus Players Club Casinos! Our Lucky Leprechaun has been busy hiding lucky four-leaf clovers in the casino and he's waiting to surprize you with a FREE GIFT if you find one. Four-leaf clovers are synonymous with luck and if you find one, you better hang on to your green hat for flourishing wins! Keep an eye on your emails for this exciting promotion.

Also known as shamrocks, four-leaf clovers, are associated with St. Patrick's Day but they appear in centuries-old legends as symbols of luck. Here are some more facts about these lucky green plants.
♣ There are approximately 10,000 three-leaf clovers for every "lucky" four-leaf clover.

♣ There are no clover plants that naturally produce four leaves, which is why four-leaf clovers are so rare.

♣ The leaves of four-leaf clovers are said to stand for faith, hope, love, and luck.

It's often said that Ireland is home to more four-leaf clovers than any other place, giving meaning to the phrase "the luck of the Irish."

One of the reasons we think this slot, all the way from the emerald isle, makes so many winners, is because it is jam-packed with lucky charms.
This 10-coin, 40 line video slot features the magic harp, a rainbow, a pot o' gold, a four-leaf clover, a lucky horse-shoe and a Claddagh Ring symbolising love, friendship and loyalty. This slot won't be complete without our Lucky Leprechaun whose playful and mischievous nature makes this slot one that you will add to your list of favorites!
PLAY NOW AT ANY LOTUS PLAYERS CLUB CASINO!
Share to Social Networks
The following two tabs change content below.